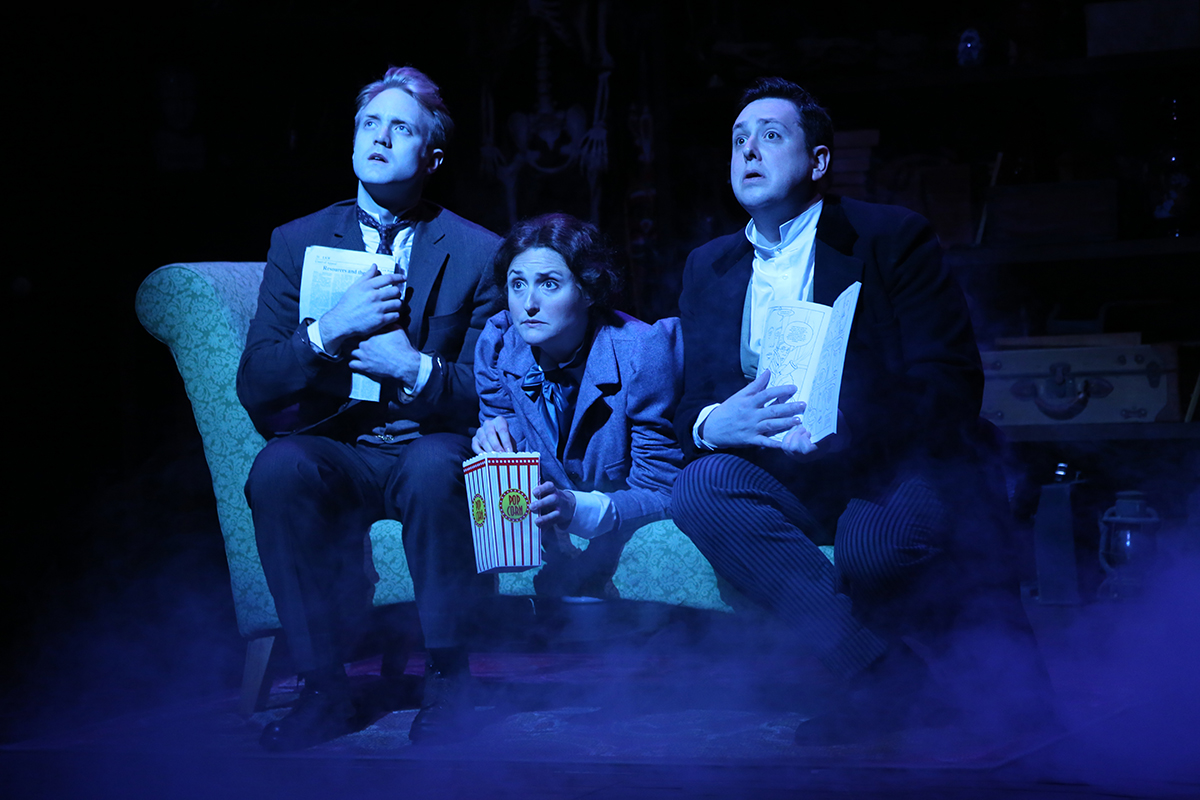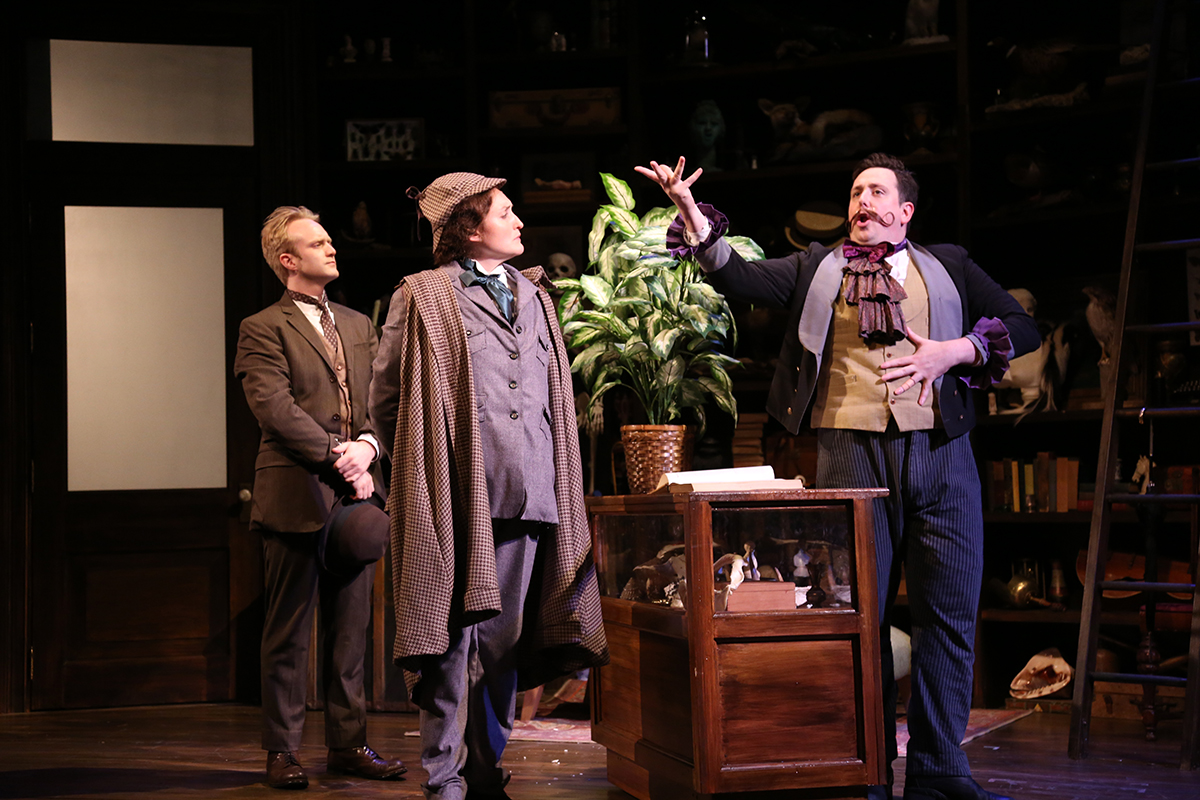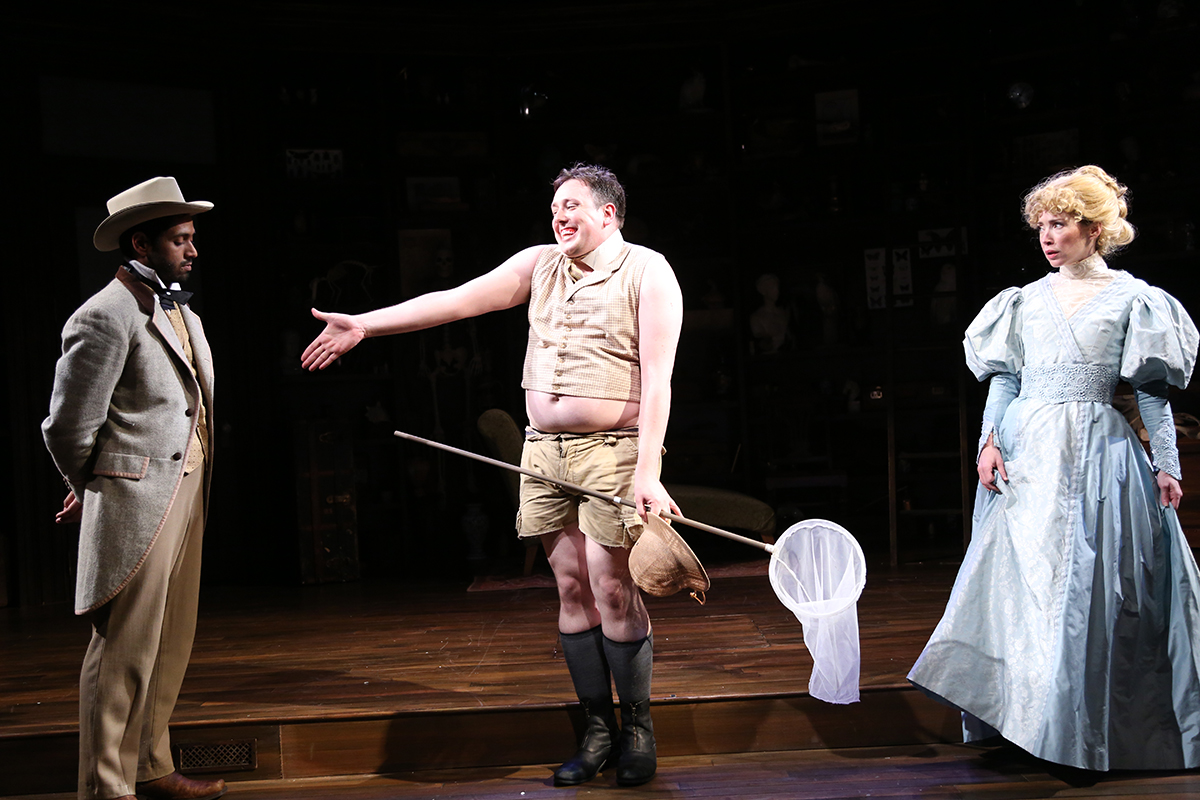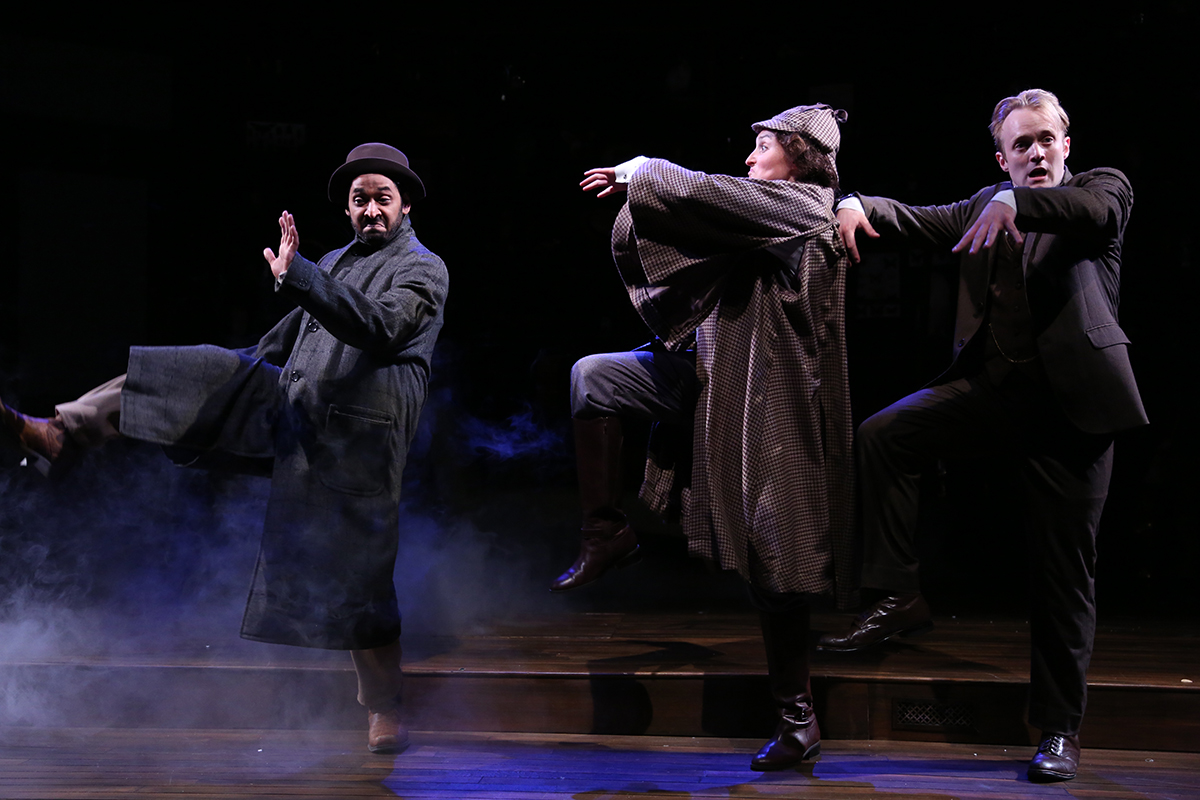 Photos: Gerry Goodstein
Ken Ludwig's Baskerville: A Sherlock Holmes Mystery - A family-friendly comic adventure
July 13 – 29, 2017
Sherlock Holmes and Dr. Watson must crack the mystery of "The Hound of the Baskervilles" before a family curse dooms its latest heir. Watch as our intrepid investigators untangle a dizzying web of clues and deceit. Does a wild hellhound really prowl the moors? Can our heroes discover the truth in time? Silly accents and disguises abound as 5 actors portray over 40 characters in this fast-paced comic mystery.
Season Support provided by the Richard Rodgers Family Foundation
Raji Ahsan* (Actor 2) is a New York-based actor, and this is his first season at Dorset. Raji most recently played Vigneshwar Paduar or "VP" in The Elaborate Entrance of Chad Deity(Asolo Repertory Theatre). He received his BFA from NYU/Tisch in 2013 where he studied with Alec Baldwin, Bryce Pinkham), and many others. Raji hosts a talk show, Making Brews and Paying Dues, on YouTube; his guests include Stacy London, Nick Onken, and others. During the quiet moments, Raji teaches voice and speech work to anyone looking to know his or her sound more intimately. IG/Twitter: @rajiahsan
Caitlin Clouthier* (Actress 1)
is thrilled to be back with the Dorset Theatre Festival family after appearing in 2016 as "Sarah" in Table Manners in The Norman Conquests Trilogy. A NYC-based actor, Caitlin has performed a wild variety of various characters wherever the wind takes her. Although her primary focus has been theatre, she is venturing into the small screen world as well. She appeared on As the World Turns as 'Taffy' and starred in two recently released web series: Parmalee and Drama School: School of Drama. Caitlin has a BA from the University of Washington and an MFA from the Yale School of Drama.
Brian Owen* (Actor 1) is thrilled to join the Dorset Theatre Festival this summer. He recently finished playing Actor 1 in Baskerville at Cleveland Play House and Cincinnati Playhouse in the Park and has maniacally played with director Jen Wineman in Sweeney Todd, Never Have I Ever, and A Midsummer Night's Dream. Regional: Camelot (Westport Country Playhouse); South Pacific, Both Your Houses, The Matchmaker, Sense and Sensibility. He's been in A Midsummer Night's Dream too many times to count. Film/TV: Hack My Life (TruTV), Never Caesar: Make Rome Great Again, Stages of Stanley, and Cinnamon Roll. He is a member of the collective Never Caesar whose video Trump-rested Development was featured by Time, Slate, and Vulture. His favorite role is husband to his wife Nicole. MFA: FSU/Asolo Conservatory for Actor Training. Proud member Team Boals. briandouglasowen.com. Twitter: @bistrowen
Dave Quay* (Dr. Watson) is happy and honored to be spending his first summer with Dorset Theatre Festival! New York: Lincoln Center, CSC, Public, Mint, Flea, EST, Organic Magnetics. Regional: Shakespeare Theatre DC, CTC, NJ Symphony, GA Shakespeare, Synchronicity, Out of Hand. Film: Catcher Was A Spy (upcoming). TV: Looming Tower, GOTHAM, House of Cards, Blindspot, Royal Pains, Forever, Drop Dead Diva. Dave's film directing includes COHAB the Series on Vimeo, and the upcoming Until Next Time. He was a clown with Big Apple Circus 2007-2010 and is the 2014 recipient of the Rosemarie Tichler Fund Award. MFA: NYU Grad Acting.
Liz Wisan* (Sherlock Holmes) NYC: The Servant of Two Masters at Theatre for a New Audience (also Yale Rep, Shakespeare Theatre Company, Guthrie Theater, Seattle Rep and Arts Emerson), Other Desert Cities (Broadway and LCT), These Paper Bullets! (Atlantic Theater), The Tempest (La MaMa), DannyKrisDonnaVeronica (Wheelhouse/4th Street Theater), Bill W. & Dr. Bob (SoHo Playhouse), Billy Witch (APAC), and productions with Studio 42 (Resident Artist). Regional: Assassins, Caucasian Chalk Circle, and These Paper Bullets! (Yale Rep), Baskerville (The Old Globe), Absurd Person Singular (Two River Theater), Intelligent Homosexual's Guide… (Berkeley Rep), The Merchant of Venice (Shakespeare Theatre Company), and four seasons at Williamstown Theatre Festival. Film and TV: Ready or Knot, Elementary, This is Hot 97, and Bitches (short). Liz performs improv, stand-up, and sketch comedy. Proud member of New Neighborhood and The Actors Center. MFA: Yale School of Drama. lizwisan.com
Playwright
Ken Ludwig has had 6 shows on Broadway and 7 in London's West End, and his plays and musicals have been performed in more than 30 countries in over 20 languages. His first play on Broadway, Lend Me A Tenor, which the Washington Post called "one of the classic comedies of the 20th century," won two Tony Awards and was nominated for seven. He has also won two Laurence Olivier Awards, the Charles MacArthur Award, two Helen Hayes Awards, the Edgar Award for Best Mystery from The Mystery Writers of America, the SETC Distinguished Career Award, and the Edwin Forrest Award for Services to the American Theatre. His plays have been commissioned by the Royal Shakespeare Company, The Old Globe and the Bristol Old Vic. He has written 22 plays and musicals, including Crazy For You (5 years on Broadway and the West End, Tony and Olivier Award Winner for Best Musical), Moon Over Buffalo (Broadway and West End), The Adventures of Tom Sawyer (Broadway), Treasure Island (West End), Twentieth Century (Broadway), Leading Ladies, Shakespeare in Hollywood, The Game's Afoot, The Fox on the Fairway, The Three Musketeers and The Beaux' Stratagem. His most recent plays include Baskerville, A Comedy of Tenors, and Tiny Tim's Christmas Carol (2015 Helen Hayes Award nominee for Outstanding Play). His newest book, How To Teach Your Children Shakespeare, (winner of the Falstaff Award for Best Shakespeare Book of 2014) is published by Random House. Over the years, his plays and musicals have starred Alec Baldwin, Carol Burnett, Lynn Redgrave, Mickey Rooney, John Astin, Hal Holbrook, Dixie Carter, Otto Schenck,Tony Shalhoub, Anne Heche, Joan Collins, and Kristin Bell. His work is published by the Yale Review, and he is a Sallie B. Goodman Fellow of the McCarter Theatre, Princeton. He holds degrees from Harvard, where he studied music with Leonard Bernstein, Haverford College and Cambridge University.
Creative Team
Jen Wineman (Director) is a director/choreographer based in NYC. Off-Broadway: F#%king Up Everything. New York: Fable (NYMF), The King's Whore (Walkerspace); Estrella Cruz [The Junkyard Queen] (Ars Nova). Touring Productions: Twelfth Night, A Midsummer Night's Dream (Asolo Rep New Stages). Regional: The Elaborate Entrance of Chad Deity (Asolo Rep), Sweeney Todd (Playmakers Rep), Lysistrata (Connecticut Repertory Theatre); The 39 Steps, Shipwrecked (Triad Stage); The Hunchback of Seville (Washington Ensemble Theatre); Bubble Boy (American Theater Group); Aloha Say the Pretty Girls (Theatre Vertigo). Up next is a production of Into the West at Tantrum Theater. Education/Training: BA: Vassar College, MFA: Yale School of Drama.
Alexander Woodward (Scenic Designer) previously scenic designed Dorset Theatre Festival's Lady Day at Emerson's Bar and Grill. Recent projects: Ugly Lies the Bone (Alliance) The Moors (Yale Rep, Connecticut Critics Circle Nomination for Outstanding Scenic Design), Orpheus…(Williamstown Theatre Festival), East Coast Curriculum (Lee Strasberg Theater). Additional credits: Sunset Baby (Theaterworks); The Children, Don Juan, Othello (Yale); Fingers & Toes (New York and Florida); Once Five Years Pass, Dixon Family Album, Schmoozy Togetherness (Williamstown Theatre Festival); Ruby Place Nest on the Ground (Signature Theatre); 13 Things About Ed Carpolotti (59E59); 1940s Radio Hour (Cortland Repertory Theatre); What I Thought I Knew, Waiting for Spring (Kitchen Theatre Company). Alexander has done over a dozen shows with Yale Cabaret, as well as numerous assistant and associate credits in New York and across the country, including the Tony-nominated designs for Bullets Over Broadway, A Gentleman's Guide to Love and Murder, The Assembled Parties, and Present Laughter. MFA: Yale. United Scenic Artists Local 829 and Wingspace Theatrical Design Member. alexanderwoodward.com
Aaron Mastin (Costume Designer) is a costume, scenic, and projection designer working in theatre, film, television, and dance. Recent costume projects include The King's Whore (Walker Space), Hairspray! (Syracuse Stage), the first episode of Z: The beginning of Everything (Amazon), A Delicate Balance (Yale Rep), Orlando (Yale Drama). He has also designed costumes for Ragtime, 1776, Sweeney Todd, Kiss Me Kate (New Jersey Performing Arts Center); Battery Dance Company; Manhattan Children's Theater; Yale Cabaret; and Princeton University. Scenery for Two Headed (Berkshire Theatre Festival), Theatre Row, Riverside Center, Millbrook Playhouse. Film and television work includes The Knick, Muhammad Ali's Greatest Fight (Asst. Costume Designer), Emmy Award-winning John Adams miniseries (HBO); Lincoln (Academy Award Nom.); Winter's Tale (Warner Bro.), The Italians are Coming! (commercial for the Fiat 500L); and the Oscar Award-winning Twelve Years A Slave. He trained at Carnegie Mellon University (BFA) and the Yale School of Drama (MFA). aaronpmastin.com
Michael Giannitti (Lighting Design) has been with Dorset Theatre Festival for 8 years, the first 6 as producing director. His lighting designs include the original Broadway production of Joe Turner's Come and Gone, 45 productions at The Studio Theatre in Washington, DC (including five years as resident lighting designer), 26 productions at the Shakespeare Theatre of New Jersey, and multiple productions at Trinity Rep, Capital Rep, Portland Stage, Shakespeare & Company, and the Weston Playhouse Theatre Company. He's also designed for Barrington Stage, Chautauqua Theater Company, Virginia Stage, Indiana Rep, George Street Playhouse, Arena Stage, The Old Globe, Seattle Rep, Huntington, Yale Rep, and Olney. New York lighting designs include Dance Theatre Workshop, Danspace Project, The Joyce, The Kitchen, Here Arts Center, P.S. 122, La Mama, and Sounding Beckett, originally produced at the Library of Congress. He has been on the Bennington College Faculty since 1992. As a Fulbright Specialist Grant recipient, he taught in New Zealand and Romania. MFA: Yale School of Drama; BA: Bates College. www.michaelgiannitti.com.
Jane Shaw (Sound Designer) has previously sound designed for Dorset Theatre Festival's Lady Day at Emerson's Bar and Grill, Round and Round the Garden, All in the Timing (original music), Whipping Man, Boeing Boeing, Pavilion, Fallen Angels. New York: Men on Boats (Clubbed Thumb, Playwrights Horizons/Drama Desk Nomination), The Killer (Theatre for a New Audience), Yours Unfaithfully (Mint), Enemy of the People (Pearl), Ironbound (Rattlestick, Women's Project), New York Theater Workshop, Page 73. Regional: Heartbreak House, Rear Window (Hartford Stage); Women of Padilla (Two River Theater); The Crucible (Cleveland Play House); Jane Eyre (Cincinnati Playhouse, Milwaukee Rep); The Price (Triad Stage); American Repertory Theater, Asolo Rep, Williamstown Theater Festival, Denver Center. Recipient: Drama Desk, Connecticut Critics Circle, NEA/TCG Career Development Program, Henry Award, Premios ACE 2012 Award, Bessie. Nominations: Lucille Lortel, Henry Hewes, Eliot Norton. Graduate: Harvard College, Yale School of Drama.
Sarah Perlin* (Stage Manager) is thrilled to join Dorset Theatre Festival for their 40th anniversary season. Broadway: All The Way with Bryan Cranston, R+H Cinderella. NYC: Actors Studio Drama School Rep Seasons 2016 and 2017, Christmas Rose (Carnegie Hall), NYC Premier of Pippi Longstocking (Kota Productions), World Premieres of Sarazad and The Monster-King (Canal Park Playhouse), and Better Left Unsaid (Center Stage). Workshops: Warped, Spongebob Squarepants, Robin Hood – The Final Adventure, Secondhand Lions. Regional: Ain't Misbehavin' (The Gateway), The Turn of the Screw (Palm Beach Opera), Die Fledermaus (Opera Saratoga), Seussical Jr. (Boston Children's Theater), Hairspray (Eldorado Casino, NV). International: Ivan Jacob's Phantom of the Opera (Jakarta, Indonesia). TV/Film: "Gypsy" (Netflix, upcoming), "Madam Secretary," "Nurse Jackie," "How to be Single," and "Royal Pains." Love to her family, dedicated to MKH. Sarah is a proud member of AEA and IATSE 306. She resides in NYC.
Judy Bowman, CSA (Casting Director) for DTF: Way of the World, I Hate Hamlet, Outside Mullingar, The Whipping Man, The Whore and Mr. Moore, Merton and the Movies and The Hollow. Recent theater includes: Danai Gurira's Familiar(Woolly Mammoth), Abigail/1702(Merrimack Rep/Tlaloc Rivas), Nibbler(Rattlestick/Amoralists). FILM/TV: Hurricane Bianca(Rattlestick/Amoralists), Lost Cat Corona, Gold Star and "The Big Dogs" TV series. Adjunct Asst. Professor at Columbia University Film School's MFA program. judybowmancasting.com.
*Member of Actors Equity Association, the Union of Professional Actors and Stage Managers in the United States
Hear from playwright Ken Ludwig on McCarter Theatre Center's production!
Thursday, July 6, 2017 at 5pm
at Northshire Bookstore 4869 Main St Manchester Center, VT 05255
Internationally bestselling author Lyndsay Faye was introduced to the Sherlock Holmes mysteries when she was ten years old and her dad suggested she read Sir Arthur Conan Doyle's short story "The Adventure of the Speckled Band." She immediately became enamored with tales of Holmes and his esteemed biographer Dr. John Watson, and later, began spinning these quintessential characters into her own works of fiction–from her acclaimed debut novel, Dust and Shadow, which pitted the famous detective against Jack the Ripper, to a series of short stories for the Strand Magazine, whose predecessor published the very first Sherlock Holmes short story in 1891. Faye's best Holmes tales, including two new works, are brought together in The Whole Art of Detection, a stunning collection that spans Holmes's career, from self-taught young upstart to publicly lauded detective, both before and after his faked death over a Swiss waterfall in 1894. In "The Lowther Park Mystery," the unsociable Holmes is forced to attend a garden party at the request of his politician brother and improvises a bit of theater to foil a conspiracy against the government. "The Adventure of the Thames Tunnel" brings Holmes's attention to the baffling murder of a jewel thief in the middle of an underground railway passage. With Holmes and Watson encountering all manner of ungrateful relatives, phony psychologists, wronged wives, plaid-garbed villains, and even a peculiar species of deadly red leech, The Whole Art of Detection is a must-read for Sherlockians and any fan of historical crime fiction with a modern sensibility.
About the Author
Lyndsay Faye is the author of five critically acclaimed books: Dust and Shadow, The Gods of Gotham, which was nominated for the Edgar Award for Best Novel, Seven for a Secret, The Fatal Flame, and Jane Steele. Faye, a true New Yorker in the sense that she was born elsewhere, lives in New York City with her husband, Gabriel.
Pre-Show Discussion – Hounding Holmes's History: The Adapted Lives of The Hound of the Baskervilles
Thursday, July 20, 2017 at 6pm
In the Playhouse Cafe
Why have Sherlock Holmes and Dr. Watson persisted on the page, stage, and screen for over one-hundred years? What keeps Sherlockians racing back to Baskerville Hall and the Moors of Devonshire? Why do fans across the world keep playing "The Great Game"? And what is "The Great Game"? Join Dorset Theatre Festival Dramaturgs in Residence Matt Kirby and Sam Levit on July 20th at 6pm in the Playhouse Cafe to find out!