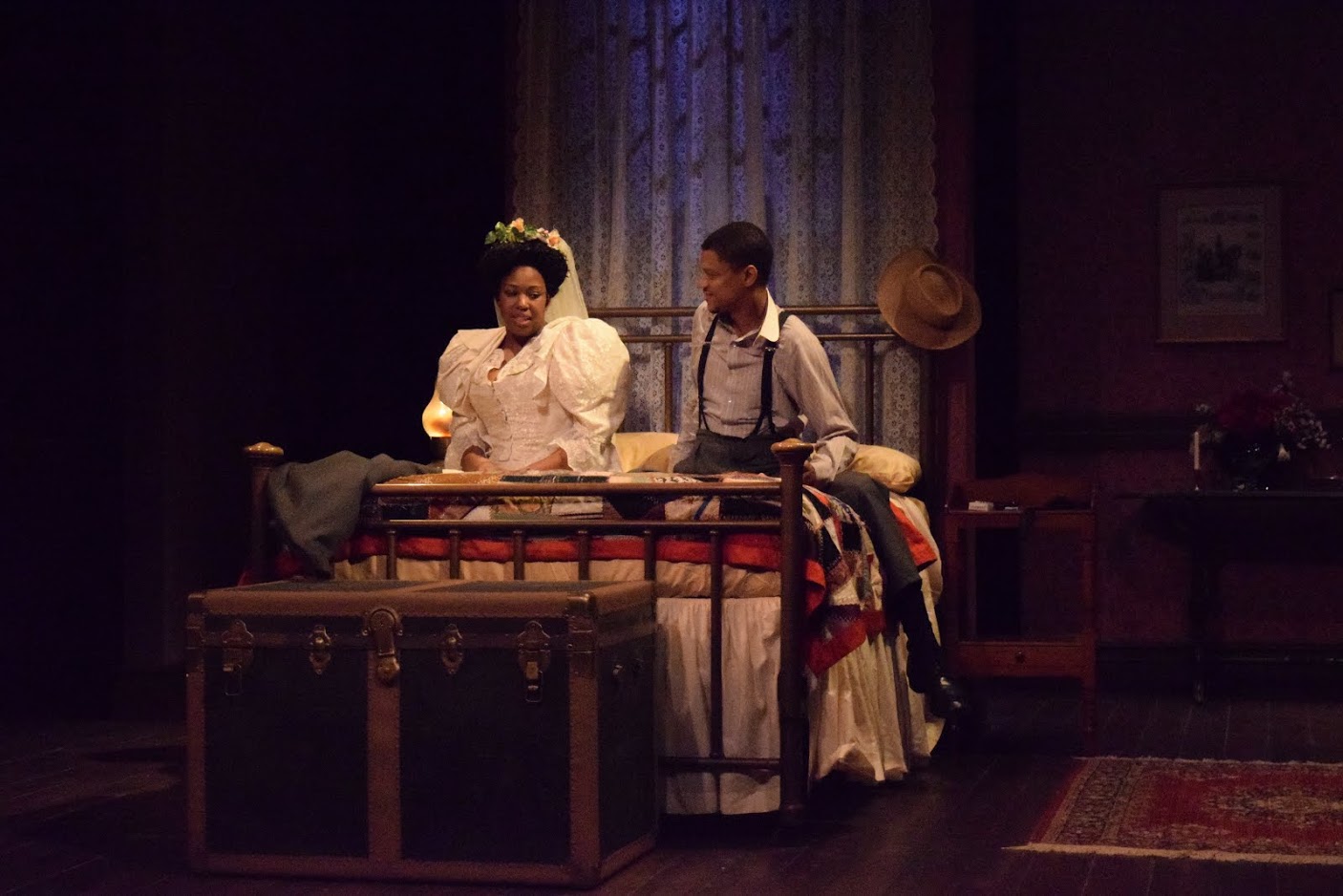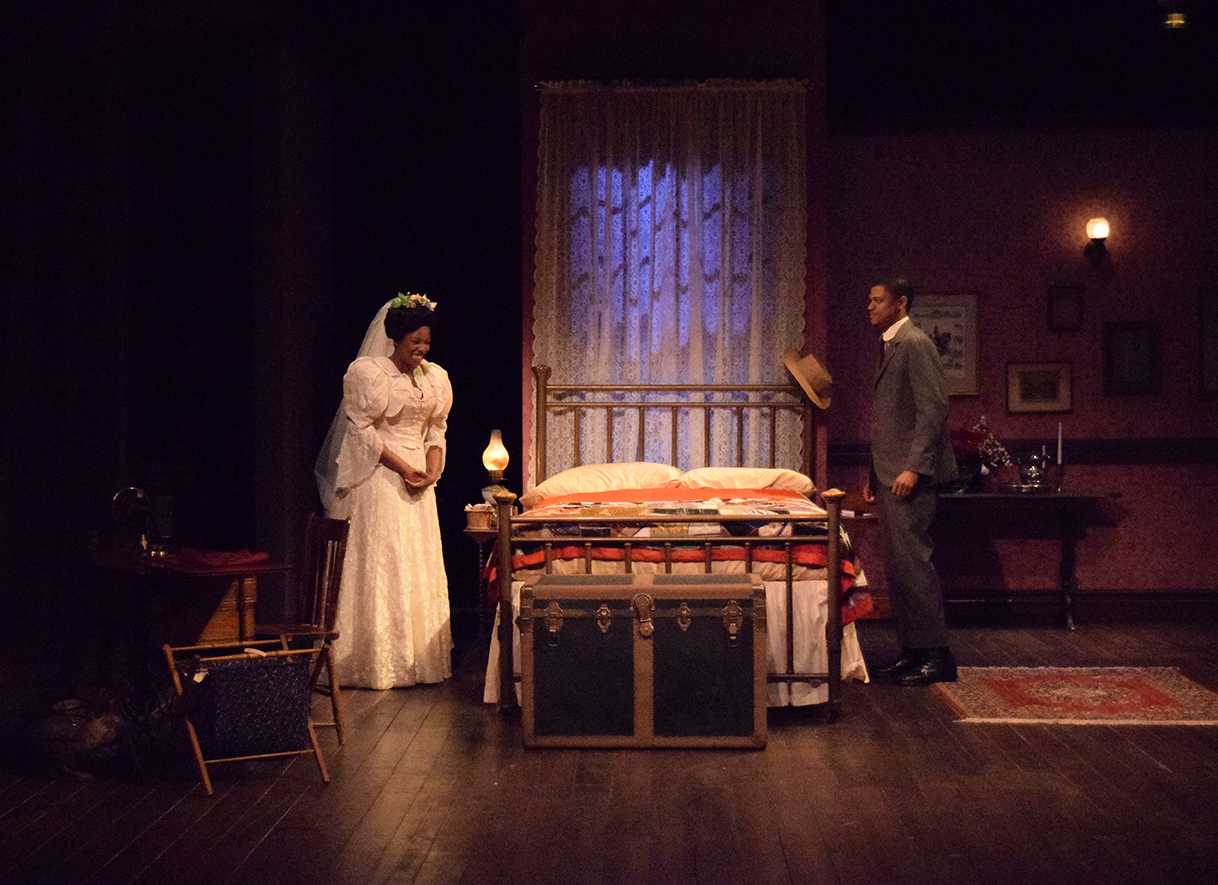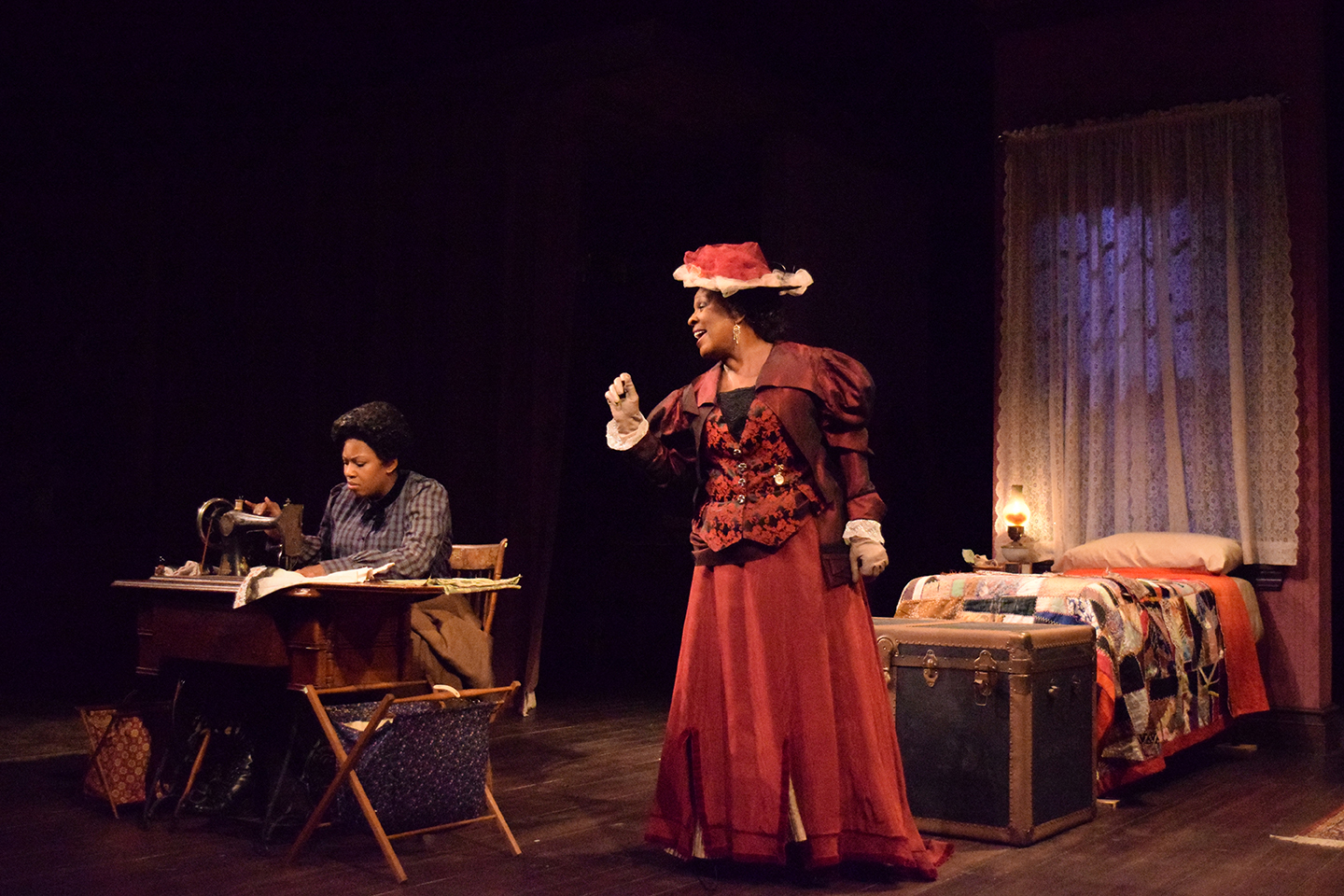 INTIMATE APPAREL "…RINGS WITH TRUTH AND BEAUTY…"
~Talkin' Broadway.com
In this award winning play, Pulitzer Prize-winner Lynn Nottage weaves an intricate tapestry of the joys, sorrows, tragedy, and triumph of a gifted but lonely African American seamstress in early Twentieth-Century Manhattan as she negotiates the choice between a love that is accepted and one that is true.
AGES 14 and up
MARINDA ANDERSON
Marinda is thrilled to be making her DTF debut. She was recently seen in the world premiere of Fairfield at The Cleveland Playhouse. New York credits include Macbethat Lincoln Center Theatre, Far from Heaven at Playwrights Horizons, Obama-ology at the Julliard School, and "The Devine One": Sassy Swings Tokyo, her solo show about Sarah Vaughan at LaMama Theatre. Regionally, she has performed at Theatreworks, Chautauqua Theatre, Perserverance Theatre, and Playhouse on the Square. She has a web series, Homegirls, that she co-writes and stars in. Marinda is a graduate of Howard University where she received her BFA in Musical Theatre and NYU's Graduate Acting Program where she received her MFA in Acting.
JANIE BROOKSHIRE
Janie Brookshire has appeared on Broadway in The Philanthropist.Her other New York credits include The Mound Builders(Signature Theatre), Man and Superman(Irish Repertory Theatre), Mary Broome and The Wife to James Whelan (Mint Theater Company) and The Misanthrope(The Pearl Theatre Company). Regionally, her credits includeOthello (Folger Shakespeare Theatre), The Illusion, Romeo and Juliet, Crimes of the Heart, Doubt and Amadeus(PlayMakers Repertory Company). On television she appeared on Dawson's Creek, Law & Order, The Good Wife and Louie. On film she appeared in He's Way More Famous than You (directed by Michael Urie).
AVERY GLYMPH
Avery Glymph most recently appeared in Raceat Hartford TheaterWorks. Having acted on Broadway in The Public Theater/New York Shakespeare Festival's The Tempest, other New York credits include Troilus and Cressida and Antony and Cleopatra(both NYSF); "Hope" is the Thing With Feathers, The Drama Dept.; 'Maid, Lincoln Center for the Performing Arts; and McReele, Roundabout Theatre Company. Regional credits include Angels in America, Playmakers Repertory Company; The Overwhelmingand Stick Fly, Contemporary American Theater Festival; Spunkand The Tempest, Actors Theatre of Louisville; Lost Creek Township, Crossroads Theatre (Regional Tony Award season); and Fences at Cape Fear. He has made numerous film and television appearances. Glymph holds a Bachelor of Fine Arts from The North Carolina School of the Arts.
ELAIN GRAHAM
Elain was last seen as Delores in When I Yet Live by Billy Porter at Primary Stages. Previously, she was seen as Mum in Debbie Tucker Green's Born Bad at Soho Rep. Television credits includes666 Park Avenue, Smash, "Unforgettable, Law and Order, Law and Order: SVU, and as Etta Mae Burrell on Another World. Other stage work includes A Raisin in the Sun (VSC), Intimate Apparel(Two River Theater), Lynn Nottage's Banana Beer Bath (EST Going to the River Festival), Julius Caesar(Hartford Stage Company).
CHANTAL JEAN PIERRE
Chantal Jean Pierre teaches Acting at Rutgers University in the summer as well as maintaining her private coaching business both in NY and NJ where she trains artists in Dialect/ Speech/ and Acting. Chantal Jean-Pierre prides herself in flawlessly performing contemporary and classical work, including acclaimed performances as Cleopatra in Antony and Cleopatra at Orlando Shakespeare Festival and Ruth in A Raisin in the Sun at the Tony Award-Winning Crossroads Theater company. She has played Millie in Trouble In Mind and the Olivia in Twelfth Night at the NY Classical Theater in residence at Central Park, NYC. Chantal Jean-Pierre's other roles of note include: Goneril in King Lear at the Folger Shakespeare in Washington DC, Undine in the regional premiere of Lynn Nottage's Fabulation at the People's Light and Theater Company. She has also traveled to South Africa to perform at the historic Market Theater in the moving ensemble work Sheila's Daywhich was subsequently performed at Hartford Stage Company. In addition to her work on the stage Chantal Jean-Pierre has made several television appearances in shows such as: One Life to Live, All My Children, Guiding Light,and We are New York.
CHARLES SOCARIDES
Charles is thrilled to be back at Dorset after appearing in Adrienne Campbell-Holt's production of RED last summer. Other recent credits include the film Bad Hurt (2015 Tribeca Film Festival) and the world premiere of Guadalupe in the Guest Room(Two River Theatre). New York Theatre: 12th Night(Abrons, Pig Iron Theatre), Sons of the Prophet(Roundabout), The Marriage of Bette and Boo(Roundabout), Trust (Second Stage), Indian Blood (Primary Stages) The Rise and Fall of Annie Hall (Stage 13), Awake and Sing!, Old Money (both at Lincoln Center). Regional highlights include The Dining Room(Westport) and Lulu (Yale Rep). TV credits include Elementary, Person of Interestand Law and Order. Charles also appeared in the independent films Virgin, Breaking Upwards, The Missing Personand In Lieu of Flowers. charlessocarides.com.
CREATIVE
Director‐ Giovanna Sardelli
Set Design‐ Andrew Boyce
Costume Design‐ Sydney Maresca
Lighting Design‐ Michael Giannitti
Sound Design‐ Ryan Rumery
PRESS
"Now and again I pray for regional TONY Awards so that an actress of this calibre could be honored properly for outstanding work; this is one of those times."- Peter Bergman- Berkshire Bright Focus Review
"Though the characters make up an album of social types, they share a common need. It's fabric we watch them touch; it's human intimacy each of them aches to feel." Alex Brown- SevenDaysVT
"A Standout….Dorset Theatre Festival has done both them, and us, a great favor, giving us a vivid and intensely alive play that uncovers the naked truth about how difficult life can be, even today, and provided us insights into the hearts and souls of characters who should never be forgotten." Gail M. Burns & Larry Murray- Berkshire On Stage
" Vermont's Dorset Makes a Bold Choice for Season Opener…. Dorset's production is superb." Leanne Jewett- Berkshire Fine Arts
"In these difficult times where the ways to divide rather than to unite seem overwhelming, we can take heart in Esther's grace – if not in her visceral screams for love and affection – and go see it all unfold on the Dorset stage before the short run of this play is over." Telly Halkias- Manchester Journal
"Dorset Theatre Festival's "Intimate Apparel" is truly fine theater — a first-rate performance of an excellent play. Would that there be more like this." Jim Lowe- Rutland Herald:Times Argus- Intimate Apparel
Great BLOG by Joy of All Things Underthings on sponsoring Intimate Apparel
Fantastic Preview in Manchester Journal by Andrew McKeever- with interviews with the cast
Shout out Preview from our friends at Berkshire On Stage
Featured interview by Jim Lowe of Rutland Herald Times Argus with Intimate Apparel director Giovanna Sardelli