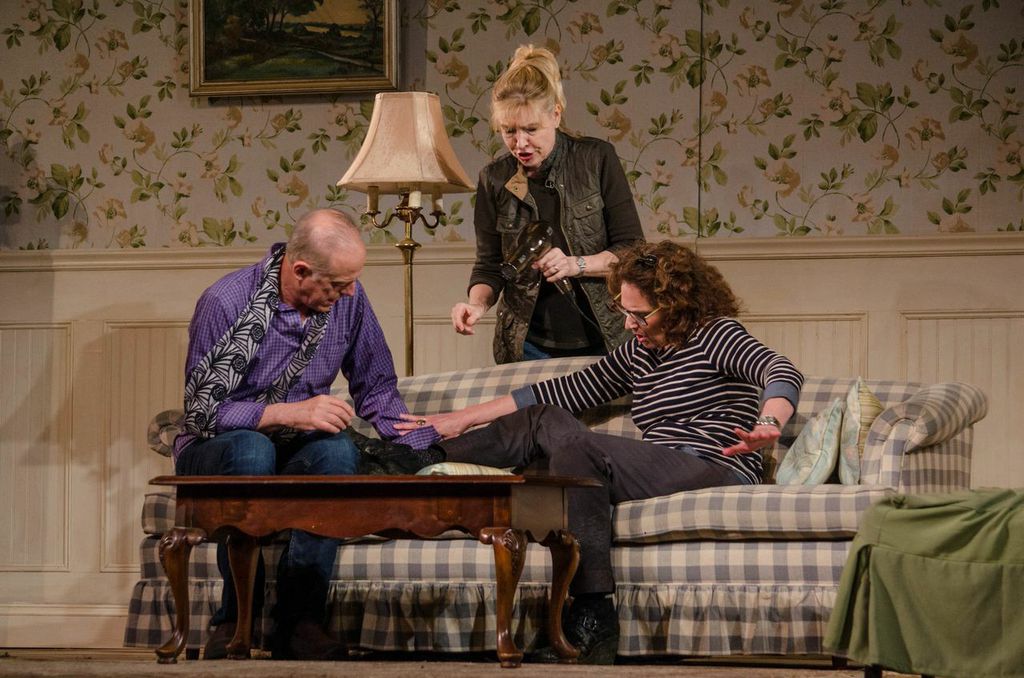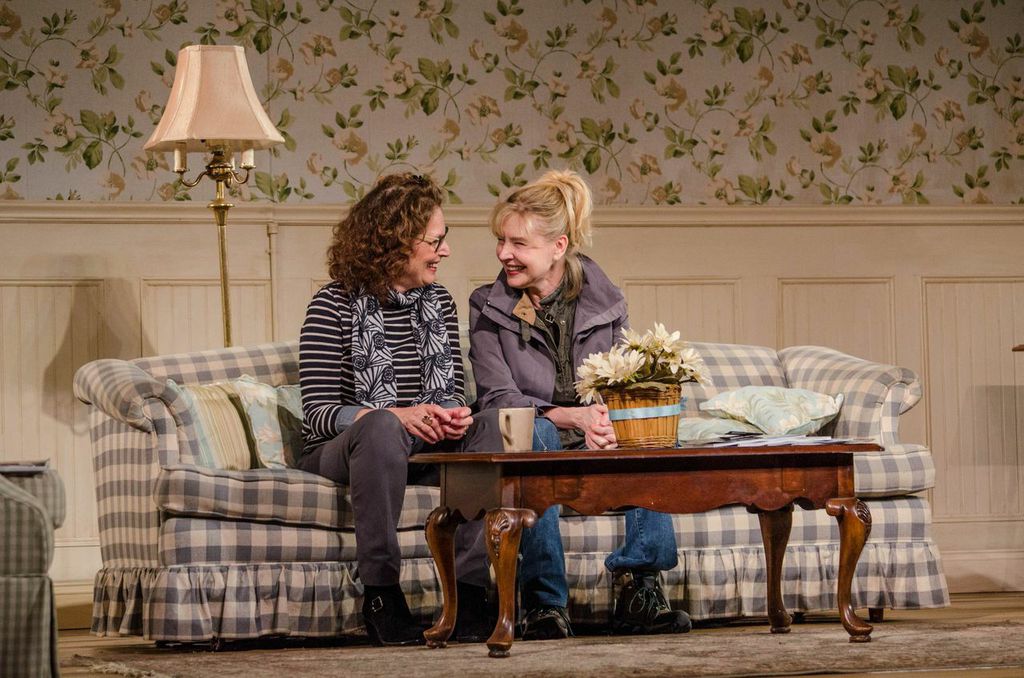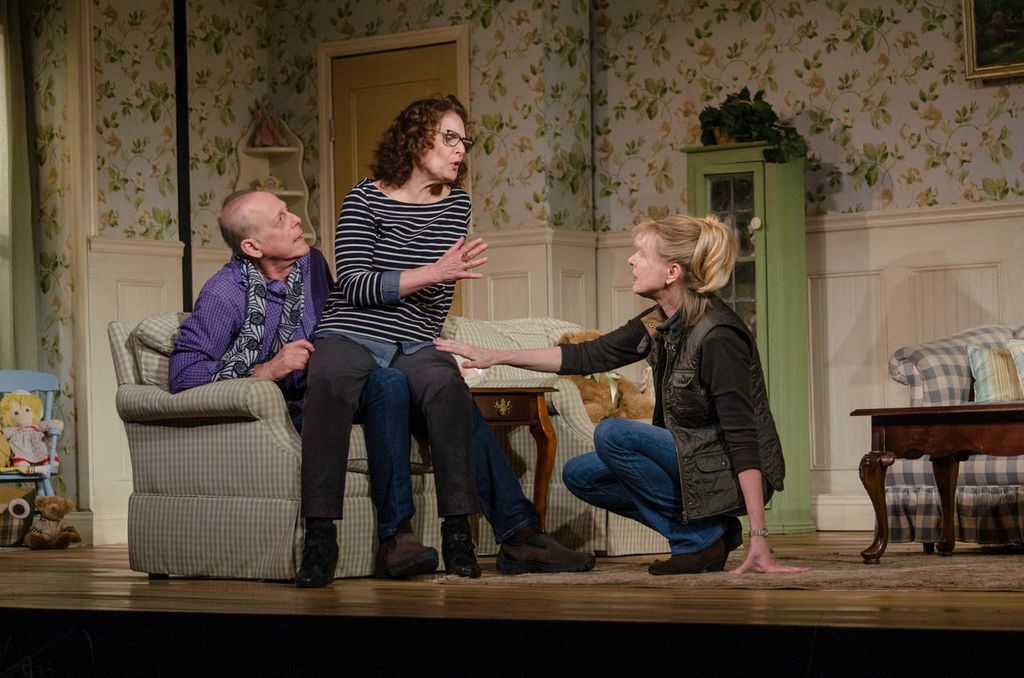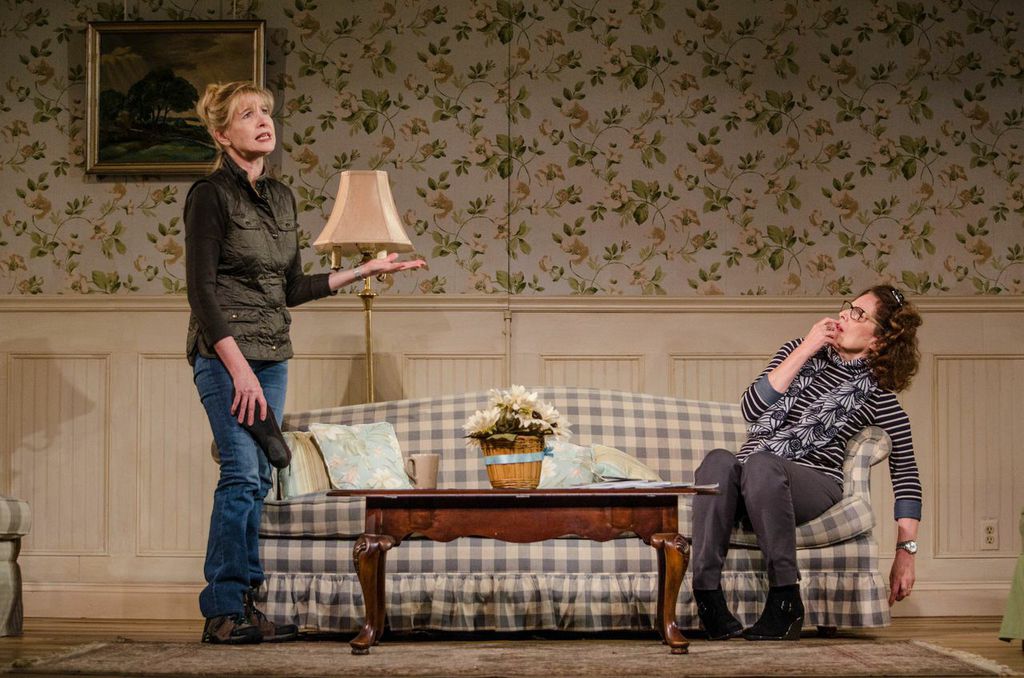 OUT OF THE CITY
It is, importantly, not a farce, but an exposition of serious themes cloaked in giggles, chuckles, and even a few guffaws.
~Manchester Journal
When two middle-aged married couples take a weekend trip to celebrate a milestone birthday, they find themselves pondering elusive romance and contemplating what comes next. This unorthodox comedic love story proves that rejuvenation can be found at any age.
Leslie Ayvazian - Carol
Leslie Ayvazian is an award-winning playwright and character actress and is the recipient of the Roger L. Stevens (1994) and the Susan Smith Blackburn Prize (1996) for her work Nine Armenians, which was produced at Manhattan Theatre Club. She also received a fellowship from the New Jersey Council of the Arts and assistance from the New Harmony Writers Project in developing this play. Her numerous works have been produced Off-Broadway, in major regional theatres, and in Poland and Slovakia. Most recently, the Atlantic Theater Company produced her play "Make Me" as part of their 2008-2009 Stage 2 season. In addition to her writing achievements, Ms. Ayvazian is an accomplished actress and teacher. She also has appeared in the films Working Girl, Alice and Regarding Henry, and is a recurring guest star in the series of the Law and Order franchise. Ms. Ayvazian is currently an adjunct professor at the graduate school of Columbia University.
Mark Blum - Matt
Blum was born in Newark, New Jersey. He is a graduate of the University of Pennsylvania. He is married to actress Janet Zarish, who appeared on television as Natalie Bannon on As the World Turns and as Lee Halpern on One Life to Live. Blum started acting on stage in the 1970s. In the 1980s, he acted in these movies: Lovesick (1983), Desperately Seeking Susan (1985), Just Between Friends (1986), Crocodile Dundee (1986), Blind Date (1987), and The Presidio (1988).
On television, he co-starred in Sweet Surrender in 1987, and he appeared in Capital News in 1990. From 2014 to the present, he has appeared in Mozart in the Jungle and Coin Heist (2017). He won an Obie Award for his performance as Al in the Playwrights Horizons production of Albert Innaurato's play, Gus and Al, in the 1988–1989 season.[4] On Broadway, he appeared in Neil Simon's Lost In Yonkers, Gore Vidal's The Best Man, and Richard Greenberg's The Assembled Parties. In 2013, he appeared as Max in the Primary Stages production of The Model Apartment. Blum currently is on the faculty of HB Studio in New York City.[5]
Janet Zarish - Jill
Janet Zarish is an American actress known for her work in television, movies and the theatre. She is Associate Arts Professor and Head of Acting of the Graduate Acting Program at NYU's Tisch School of the Arts. She received her B.F.A. at The Juilliard School under John Houseman. Zarish has appeared on and Off-Broadway, starring in Other's People Money at the Minetta Lane Theater and Miss Julie at the Roundabout Theatre. She appeared in soap operas as Natalie Bannon on As the World Turns in the early 1980s, and as Lee Halpern on One Life to Live from 1986 to 1988, and again from 2008 to 2009. She has also guest starred on Law & Order, Forever, New York Undercover, Seinfeld, Mad About You, and Blue Bloods. Her Seinfeld episode, "The Alternate Side," was selected as one of Seinfeld's top ten episodes by Rolling Stone. In film, she played supporting roles in Mystic Pizza and The Next Big Thing.
John Procaccino - Dan
John Procaccino is an actor, known for Assassins (1995), A Most Violent Year (2014) and Magic in the Water (1995).
CREATIVE
Dina Janis - director
Narelle Sissons - scenic designer
Teresa Snider-Stein - costume designer
Michael Giannitti - lighting designer
Will Pickens - sound designer
Joanna Obuzor - production stage manager
PRESS
"Dorset's "Out of the City" a thoughtful comedy..." - Manchester Journal
"Bright, quirky "Out of the City" premieres at Dorset (VT) Theatre Festival" - Berkshire On Stage
"Out of the City Premieres at Dorset Theater Festival: Turning 60 and Still Discovering Themselves" - Berkshire Fine Arts